In this article (and video), I'll take you through the steps of making 7 quarts of delicious, old-fashioned apple pie filling.
Just think of how rewarding it will be – especially once cold weather is here – to be able to take down a jar or two of delicious, homemade, old-school apple pie filling and make a homemade pie for your family.
I've been wanting to make this video for weeks so I'm glad I've finally had the time to get around to it.
Here is the recipe I used, which is from the National Center for Home Food Preservation:
https://nchfp.uga.edu/how/can_02/can_pie/apple_filling.html
Apple Pie Filling
Quality: Use firm, crisp apples. Stayman, Golden Delicious, Rome, and other varieties of similar quality are suitable. If apples lack tartness, use an additional 1/4 cup of lemon juice for each 6 quarts of slices.
Please read Using Boiling Water Canners before beginning. If this is your first time canning, it is recommended that you read Principles of Home Canning.
Yield: 1 quart or 7 quarts
Procedure: See Table 1 for suggested quantities. Wash, peel, and core apples. Prepare slices 1/2-inch wide and place in water containing ascorbic acid to prevent browning.
For fresh fruit, place 6 cups at a time in 1 gallon of boiling water. Boil each batch 1 minute after the water returns to a boil. Drain, but keep heated fruit in a covered bowl or pot. Combine sugar, Clear Jel®, and cinnamon in a large kettle with water and apple juice. If desired, food coloring and nutmeg may be added. Stir and cook on medium high heat until mixture thickens and begins to bubble. Add lemon juice and boil 1 minute, stirring constantly. Fold in drained apple slices immediately and fill jars with mixture without delay, leaving 1 inch headspace. Adjust lids and process immediately according to the recommendations in Table 2.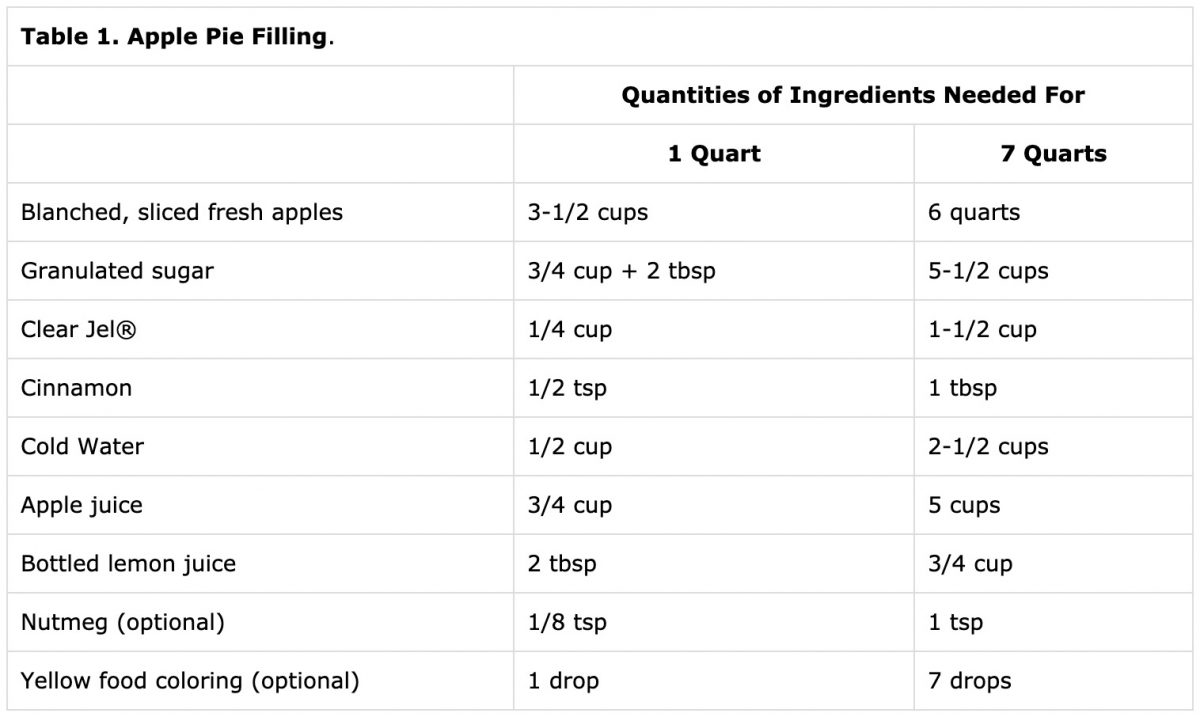 This document was adapted from the "Complete Guide to Home Canning," Agriculture Information Bulletin No. 539, USDA, revised 2015.
Reviewed February 2018.
---
Check out some of my other canning recipes here.